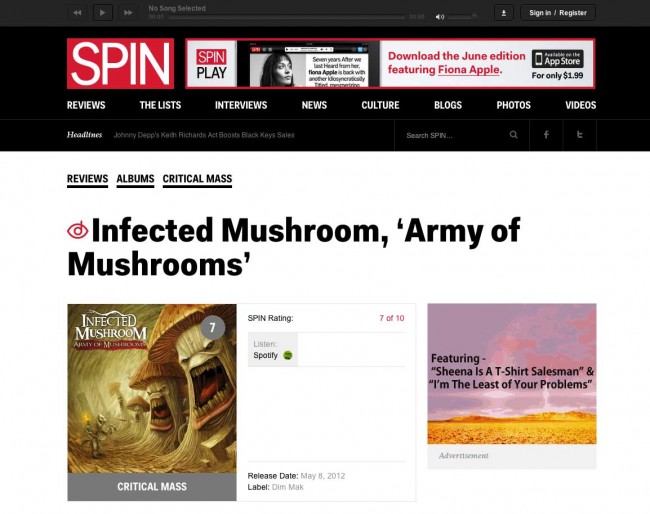 From Spin.com:
by Darren Ressler
Posted on:
MAY 7, 2012
Filed under:
MUSIC FEATURES VIDEOS
Originally formed in 1997 and hailing from Kiryat Yam, Haifa District, Israel, Infected Mushroom's Amit "Duvdev" Duvdevani and Erez Eisen have called L.A. home for nearly a decade. Rising from the Israeli psy-trance scene, they've built a faithful global fanbase while consistently touring the world and expanding their sound to include elements of electro and rock.
On their eighth album, Army of Mushrooms, out on May 8 on Steve Aoki's Dim Mak, the twosome present their fans with a lot of surprises on a musically diverse album including a cover of Mashina's "Send Me An Angel" which marks the first time they've recorded a full song in Hebrew (Duvdev: "It's a song from a huge band in Israel called Mashina, and we collaborated with them in Israel and it's a favorite song from our childhood. We gave it lots of thought so that we wouldn't ruin the original song!") and a drum 'n' bass cover of Foo Fighters' "The Pretender."
We met up with the duo at the Paramount Hotel in New York City and asked the guys to share their five favorite things. They were also kind enough to give a video shout-out to Société Perrier's newly launched Tel Aviv page. Toda!
1. Food: Duvdev: Our favorite thing by far is food. I'd say we spend 70 percent of a day speaking about food. It doesn't matter if we're on tour, in the studio or whatever…70 percent of the day is talking about food and discussing where we're going to eat. That's our favorite thing by far. We both love Israeli food, but we check everything. Food is such a big thing. We're here in New York which has the best pizza and bagels. We love it. Last night we ate at Frankie and Johnnie, a restaurant that's been open since 1929.
2. Sports: Duvdev: I follow basketball and try to go to Lakers games whenever possible.
3. Studio Gear: Erez: We're pretty addicted to buying new gear and finding out abut what's new. We're on our fifth studio, and we made it much more efficient. It has a vocal room and built a little compound for it. It was a process but a good one and it turned out great.
4. Moves and TV: Duvdev: I'm super addicted to television. Anything from good shows like Fringe and Lost to really, really bad shows like The Vampire Diaries. [Looks at Erez] Oh, I saw Touch again yesterday.
Erez: Again? Crap!
5. Photography: Erez: I love it. I have a 5D Mark II. We take pictures, edit them in Photoshop and play with after effects when we make movies.
The release party for Army of Mushrooms takes place on May 12 at Avalon Hollywood.
This entry was posted on Friday, June 15th, 2012 at 5:12 AM
Posted in: News