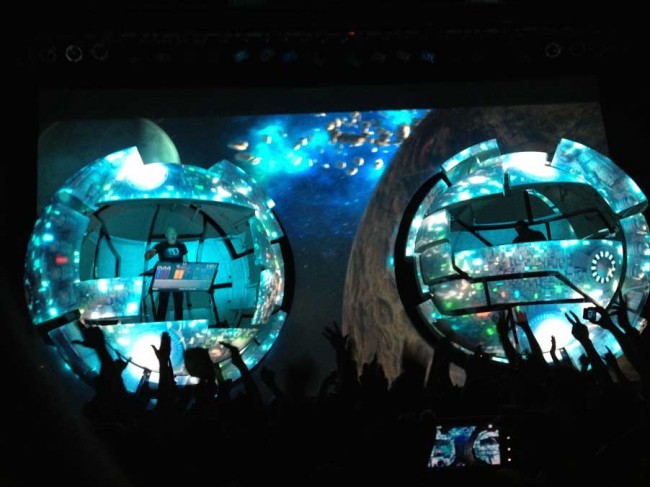 LA WEEKLY/OC WEEKLY
http://www.ocweekly.com/slideshow/infected-mushroom-avalon-36794904/
**CLICK ABOVE LINKS FOR SLIDESHOW***
DIG10VE
http://digi10ve.com/2012/05/14/infected-mushroom-the-unveiling-a-hugesuccess-in-hollywood/
Infected Mushroom – The Unveiling–A Huge Success in Hollywood
May 14th, 2012 ⋅ Events, Music, Uncategorized ⋅ by DigiRodeo
Infected Mushroom is an Israeli PsyTrance band/electronic group formed in the late 90s by producers Erez Eisen and Amit "Duvdev" Duvdevani. They are well-known for their innovations in Electronic Music, creating hypnotic arrangements and coupling them with surreal rhythms and complex layered melodies, a brand of music that we know today as "PsyTrance."
On Saturday night, the 12th of May, Avalon played host to The Unveiling, Infected Mushroom's official CD release party, celebrating the long-awaited release of their newest album, Army of Mushrooms, which came out on May 8th under Dim Mak Records. Drawing in hundreds of fans with the promise of an exclusive preview of their all-new mind-bending show, The Unveiling was a huge success.
The show started with an amazingly enigmatic 20-minute performance by Lucient Dossier, which proved to be quite the introduction for Infected Mushroom's new show, setting a mood of mystery and awe in the venue. Infected Mushroom came on a few minutes after their opening act cleared the stage, eliciting nothing but cheers of welcome from the captivated audience. As dozens of fans held up their camera phones to capture the magic for future viewing, the awe-inspiring psychedelic visual displays started, with images of lighting strikes and mushroom landscapes lighting up the stage as the music began its progression.
The show proved to be nothing short of mind-bending, showcasing intense visuals and taking the audience on a psychedelic journey, going through lush mushroom landscapes, Aztec pyramids, underwater jellyfish habitats, past the asteroid belt and all throughout the cosmos, and they even had us witness the destruction of worlds. Duvdev would also leave his sphere at times to sing or talk to the audience, which only served to rile the crowd up even more. All in all, it was an insanely amazing show; you had to be there to truly appreciate it, but in case you weren't there, here are just a few pictures to give you an idea of what it was like.
Grab the Army of Mushrooms album here.
BUZZBANDS.LA
http://buzzbands.la/2012/05/12/tonight-in-l-a-rufus-wainwright-brendan-benson-brian-jonestown-massacre-nikka-costa-yann-tiersen-infected-mushroom-wango-tango/
Tonight in L.A.: Rufus Wainwright, Brendan Benson, Brian Jonestown Massacre, Nikka Costa, Yann Tiersen, Infected Mushroom, Wango Tango
Quite a Saturday in store:
► Infected Mushroom, its new album "Army of Mushrooms" just out, debuts its new 3D live show tonight at Avalon Hollywood.
This entry was posted on Friday, June 15th, 2012 at 5:03 AM
Posted in: News